I have been down lately for various reasons and today I decided I needed something sweet. Something chocolate. Now my kiddies have been asking for me to make chocolate chip cookies but I needed something, more. Something with lots of CHOCOLATE. So, me and Maya made SUPER
FUDGEY
Brownies!! Oh, how I love the smell as they are cooking, cooling and entering my mouth. I made, once last year, a Peanut Butter Fudge Brownie. Can you say HEAVEN? I brought them to work and the women were literally DYING for them. Mind you, I made EVERYTHING from SCRATCH! Suzy homemaker I was on that project. And, I'd do it again they were that good. I also know how to make a mean fudge.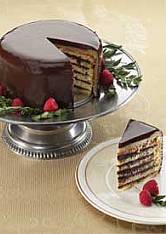 Seven Layer Cake, Can you say

Delish

?
Chocolate Fountain but who I am I kidding I would not be dipping fruit into that one. Last week at the camp party I dipped Rice

Krispie

Treats - Yummy!
Those Chocolate Peanut Butter Brownies I told you about.
In any case, the brownies were/are delicious and I plan on going back for the other half of the one I started before.