Well, as I may have told you before my husband graduated The Culinary Institute of America.
He doesn't cook much but when he does, watch out!
Last night he once again out did himself.
He took care of the appetizers, they included Clams and Shrimp. Not together but as follows.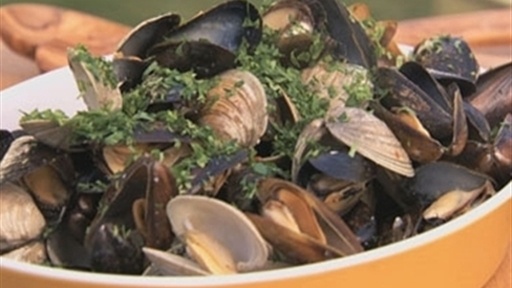 Clams on the grill
2 dozen Clams
1 bunch of cilantro
5-6 cloves of garlic
1 bottle clam juice
1 cup of white wine
Put all ingredients in aluminum pan, cover with aluminum foil. Put on hot grill, clove cover. Cook about 10-15 minutes (or until clams open). Take foil off of pan and serve. Enjoy!
So easy-peasy you will love it.
Shrimp on Grill
2 dozen large shrimp (11-15 a dozen)
Cajun seasoning
Butterfly and devein shrimp (PIA), put in aluminum pan or bowl to toss seasonings all over shrimp. You can skewer shrimp or just put them on grill. I highly recommend that you oil the grill first (meaning take a small bowl with some olive oil and a paper towel, get your trusty tongs (the big ones) and hold paper towel with tongs and dip into oil. Then rub oiled paper towel on the grill (shrimp won't stick then). Grill until pink and serve. Enjoy!
Make sure for these kinds of meals to have a graveyard (bowl for shells and tails).
It was a nice starter to the meal and end to a long lovely day.